You may have noticed our Vechain give away
If not, check the link, retweet and follow to have a chance on a nice pay out!
I announced to open a trade in VETUSD and share profit with one random follower (5%). How's the trade going?
I'm not in yet! You what, really?
Yes, I'm not in a rush to open that trade. It's a fun trade, but with decent size (aim is 5mio VET). The trade is next to my spot holdings and want go on safe with it. Although VET is rising nicely currently, I have my reason to be cautious. Maybe too cautious, time will tell…..

Let me explain:
I've been bearish on BTC for the past weeks, expecting a move towards $8.000,- Past week, I thought we were about to start that next leg lower but as we have seen for many weeks now, BTC continues to range and moving very slow. It's PA is very boring. As for now, I'm still expecting that move lower for BTC which very likely also affects the altcoins, especially the USD pairings.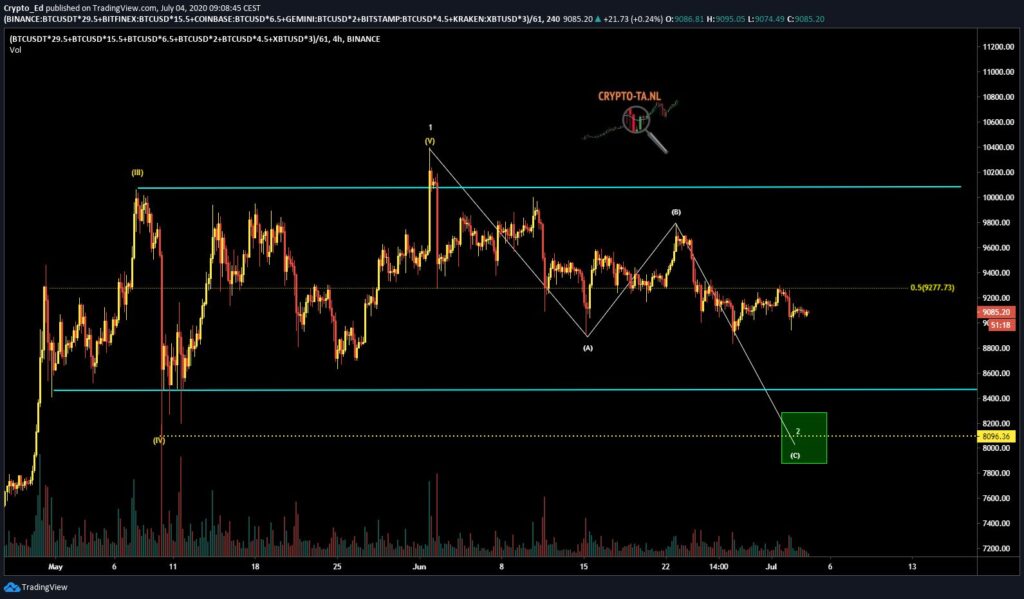 As soon as BTC invalidates this scenario, I'll be much more confident in trading alts agressively.
But Sir, VET is pumping!
Yes, because of the bearish scenario for BTC I held back on this first break out as I did have some targets which are not that far away.
Right after VET broke out, BTC printed an impulsive move lower and I thought that was the start of that move to 8k, so I held back with my VET trade. But right after that, BTC started going sideways again, giving VET the chance to pump.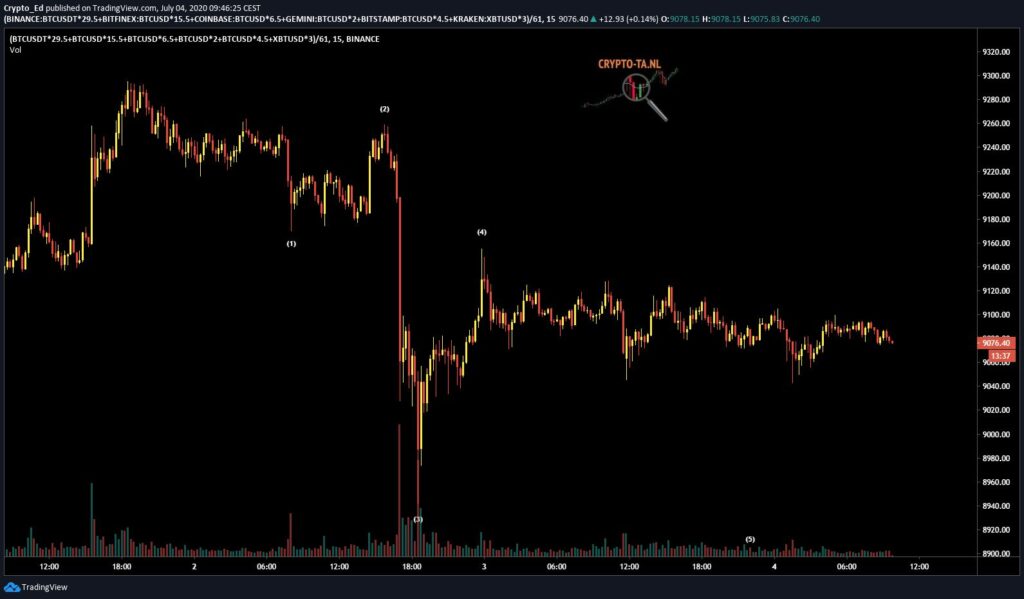 On the Daily charts for VET you can see that I count the current swing as a 5th leg and VETBTC already reached it's "possible reversal area", the red box. VETUSD is nearing that area but doesn't need to reach that area to call that swing "mature".
Both pairs showing bearish divergence by the way. Unless they erase that, it's an indicator for an upcoming correction. Not a guarantee, but an indication to be clear.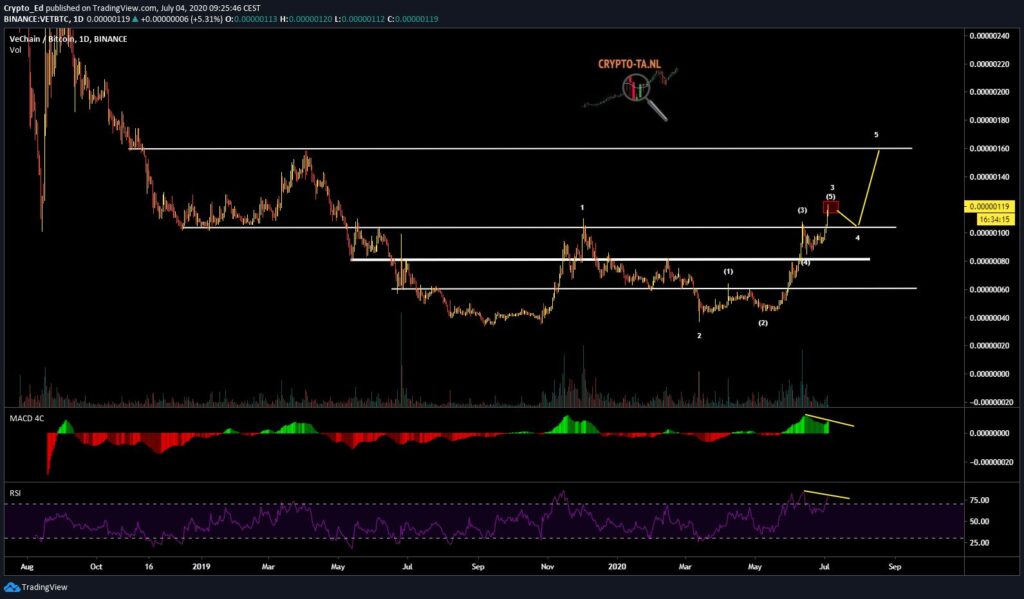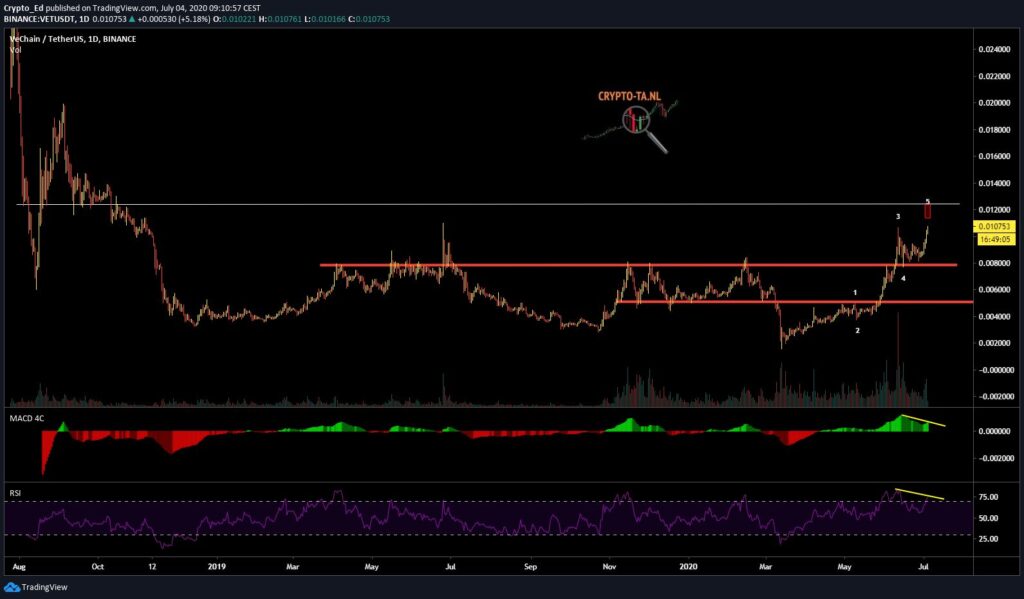 When following Elliott Wave, we should see a correction coming because they ended a cycle (when my labelling is correct).
This is also visible on the 1hr charts, going higher towards the red boxes but with bearish divergence. Volume is also not superb, compare it to the previous run…. I want to be in a trade with volumes like that.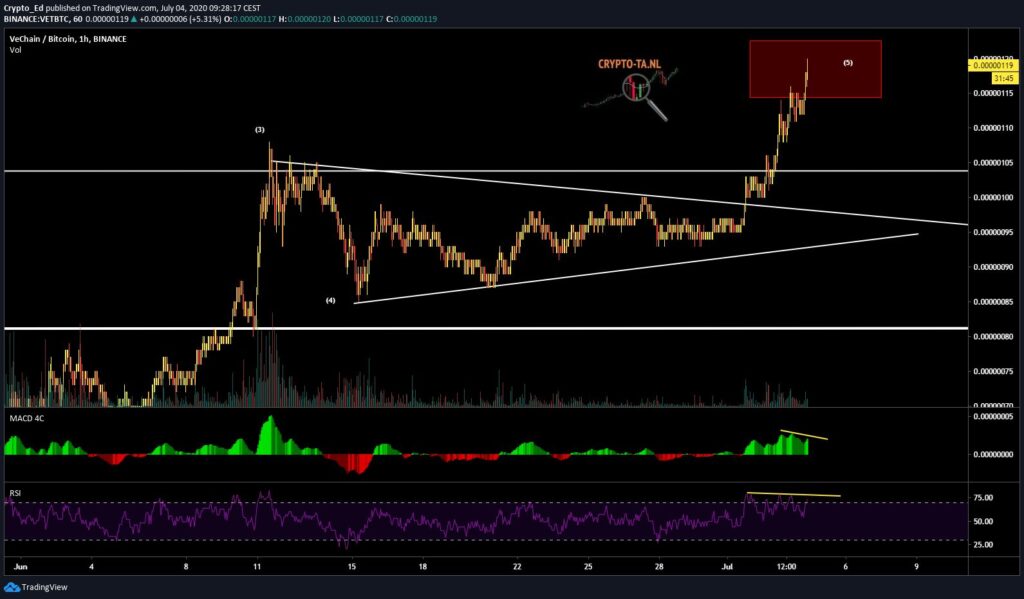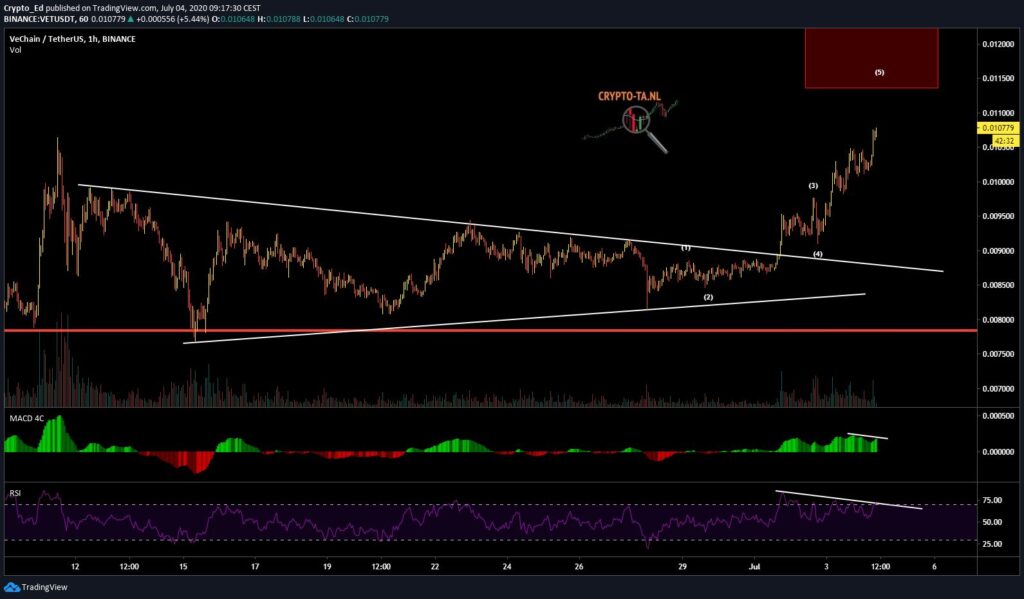 All in all: for this fun trade (on leverage!), I didn't want to have a big risk and I'd feel much safer entering after we see that correction (check Daily chart).
Off course, I could be wrong. No problem for me, my spot holdings are far more important for me and they are doing well…
But for this trade: I'll get this trade sooner or later. In case it just keeps pumping I'll re evaluate and look for breaks above key levels when I have the feeling VET is strong enough to decouple from BTC.
As written, I'm aiming to get in on a big move which seems more likely to me after some correction. Targetting 160 sats with a possible extension to 200 sats or more and for the USD pair $0.02 at least.

Worst case scenario: a bad trade or no trade at all. If it would turn out like that, it would look like I all set this up for some engagement without financial commitment. Because of that, I decided to set a minum for the give away: $250,- to be paid in $VET tokens.
Reference date = 31-07-2020
I see a lot of people replying to the tweet with their targets. Please make sure to retweet the announcement with your comments. Only with that, you have a chance of winning that pay out.

1 other thing: last week, some fool tried to ridicule me, saying I claimed to have started the 2017/18 bull run. Absolute nonsense and he kept on going being negative towards me. If you are 1 of the few who openly liked his comments: be a man, don't be so hypocrite and delete your retweet for this give away.
In coming days I'll update on this page once I'm in the trade and keep you informed about the results.

Wishing all happy trading, a profitable give away and a nice weekend!
UPDATE 23-08-2020
I have decided to close this give away!
Reasoning: it all started as a bit of fun, as a side trade where I reserved some capital for this trade (~$10,000). Hoping for a big run for Vechain. There was a big run, I missed the first run (see previous update), made some profit on the 2nd run and waited for the next run.
And waited, waited and waited. 
Vechain's Price Action has been quite boring past weeks whereas I see many other coins making great gains. 
Although I think Vechain could still make a nice run on the current bullish vibes, I decided to close this give away as it was meant as a short term action, not lasting a couple of months and using this money to trade coins who actually move.


At the time I started, I opened a new Futures trading account on Binance and deposited $9.950
In my first trade I made ~$8500 profit. Could have been more, but I was AFK when it pumped to 0.23cts and immediately reversed 17%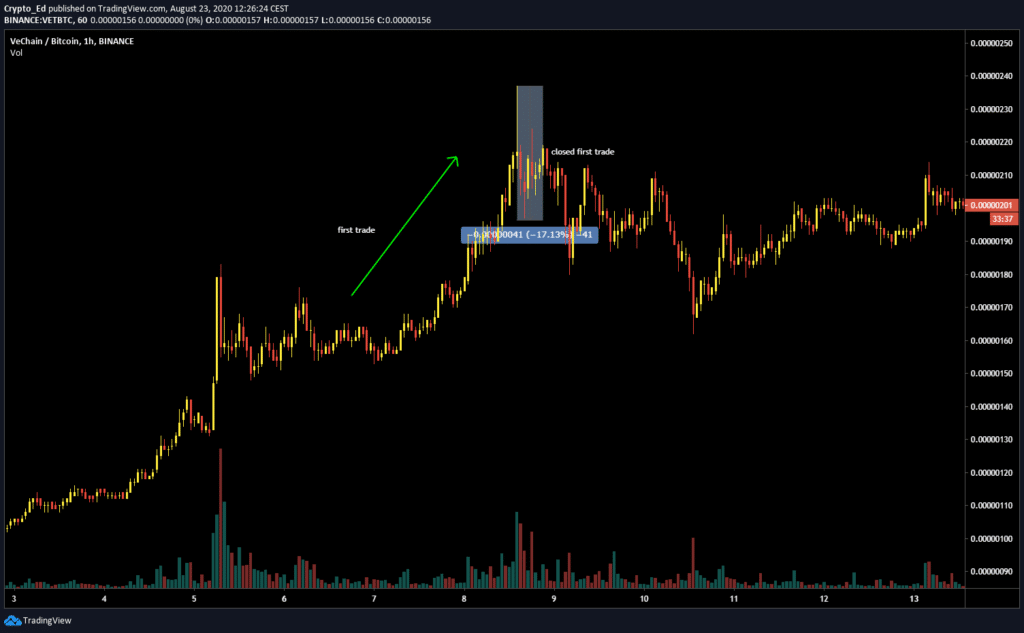 Fell asleep literally 10 minutes before I wanted to open a short which lead to the move from 0.21 to 0,185cts
In the following weeks I was waiting for a continuation of the uptrend but we only saw some weak attempts, resulting in price drifting lower and lower.
I longed 2x and got stopped out 2x.

As already written, I still think VET could see more upside with current market sentiment but it could take a while and I don't want to wait for that. After all, this was meant to be a little fun project. Becuase it was a side trade, I didn't force any trades and only opened trades after confirmation on higher time frames. Too bad I missed the first move, that was actually the biggest run. I also missed a couple of deciding moments as it was during Asian sessions.
With the upcoming 3rd anniversary of Crypto-TA, I also have other events planned, so it's time to close this little event.


Summary:
Starting Balance: $9.950  (forgot to take a screenshot unfortunately)
End Balance: $17.003,68 
Result: $7.053,68
5% from 7053= $352,68
With these $352 USDT I market bought 19.015 VET tokens.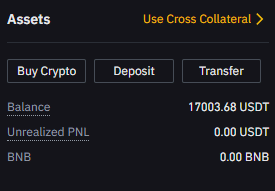 Next step was to choose a lucky winner, I used Retweetpicker.com for that. Never used it before, so I clicked a couple of times but the first winner was @rafiki_crypto
For transparency: 

The winner has been contacted already, jus to avoid trolls faking his account and contacting me.
I will update here as soon as the tokens have been sent.

As mentioned above: very soon Crypto-TA will be celebrating it's 3rd anniversary. One of the oldest and most professional training+trading groups in Crypto! We have some actions/give aways planned already.
Stay tuned, follow Crypto-TA on Twitter for our next actions.
---