Exactly a week ago, I woke up to a real nightmare for any business owner: getting slaughtered on Social Media. Herewith I would like to explain more, apologize, invalidate some of the false accusations and invite you all in the coming week to come and see how Crypto-TA really works, so you can judge for yourself. Furthermore I would like to thank all people who contacted me, supporting us, members, former members, Twitter followers and people I never interacted with before this….
Thank you very much!

THE refund
Customer has been refunded 100%. I've sent my apologies to the customer for the way I dealt with his request for the refund.
Once again, I want to express that we always honour a request for refund in the cool down period, but I tried to keep the customer longer onboard in a clumsy way, completely misinterpreted our conversation and mistakenly thought we agreed on my alternative proposal.
I can't stress enough that, in no way, I wanted to refuse the refund and deeply regret the way I handled the dispute with the customer and take full responsibility for that.


Since I started Crypto-Ta.nl I have always acted in the most honest way and following the law. Does this single incident suddenly proof that I'm a scammer? For many it does apparently but lets check some facts & figures:
Since our start in October 2017, 453 students subscribed to our service. Since then, we've been accused of scamming by only 1 member. We are the service with (by far) the most reviews on paidgroupsreviews.com. 1 negative (last weeks), rest of the reviews all rating us 4-5 *
Refunds in 2019
2 members asked to cancel membership within the official cool down period. Both received full refund. 5 members asked to cancel membership after the cool down period, before their membership ended. They bought the 4 months package and requested cancellation for various reasons (lost job, bear market, no time to trade). We cancelled all these memberships, stopped the recurring payment and/or refunded when paid in advance even though we had the right to hold the customer to their contract according to our Terms of Service. All refunds have been executed within hours.
Since our start I've been very careful and working according to the local laws. The company behind Crypto-TA.nl is officially registered as Training Institute. Until our bookkeeping was fully automated, a well respected Crypto Accountant helped me out. Among other things like financial and legal advice, he helped me with our Tax filings.
Companies working with crypto do experience all kind of difficulties when it comes to finance (a bank account for example). Due to the fact we strictly follow the rules, perfect book keeping and transparency in all our activities, we had no problems to get a bank account, cooperating with several payment processors who demand highest transparency ("BTC is terrorism") and partnered up with one of the world's largest outsourcers of Training Services.
This would never be possible if Crypto-TA.nl was some shady company behind a comic avatar and offering a shady signal service.
I endorse you to find a "colleague" who managed to achieve the same and offers same kind of transparency.
Crypto Community faces "fuck ups" more or less on a daily base. We're all humans and we make our mistakes and hopefully learn from it. I will.
The following was for me the most characteristic example how the public judges without knowing the real story: a well-respected trader had the guts to show some support, stating I'm not a scammer.
Some people I never interacted with, were trying to convince him of the opposite, not realizing this trader has been in our group for about 15 months, knowing exactly how we work!
The "leaked" images from our Slack
Screen shots were posted, stating it were trade calls.
This is absolutely not true! Like any professional user of TA, we look for different scenarios and our trades depend on the outcome of those possible scenarios.
We offer our members daily updates. We are not spoon feeding them with signals but publish our view on the market and describe different scenarios. When a member decides to take a trade based on our "possible scenario" it's his own responsibility. All explained in our Introduction Email and Introduction Video.
Only when such a possible scenario unfolds in a trade set up, we post the set up in a channel called "crypto trades". All our trades are tracked in our Trade Journal. This Journal is 24/7 accessible on our website and on a weekly base we tweet our results with a full recap. Full transparency, not hiding anything (we trade together with members and they check the Journals).
Internally, we have strict rules for these trades. When members get the trade but our team member misses his entry, we don't track it as a trade.


Although member claims we posted trade set ups for shorting BTC, those calls were absolutely not given on those specific dates.
In fact, it's even the opposite! On 25-10-2019, 1 of our team members posted a set up for a long trade in BTC! Team member and some members actually got in that trade.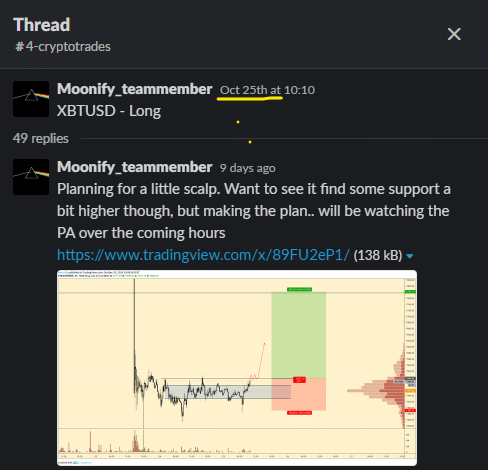 We even didn't communicate on Social Media we gave that signal, were in that trade or anything like that. All what was shared on Twitter was a post saying "not surprised about his move up" because it was what we've been warning our members already for days and was also tweeted the day before "be careful when shorting, we are in the final stages of a large correction" and the other day before: "reached target area for a bounce". All our members were aware that we didn't advice to short BTC because it met my conditions to expect a bounce.

To summarize: we didn't call to short BTC, the tweets are supporting this and the so called "trade calls" were never given. Instead of that, some of us were in a long.

I can imagine people sometimes get the wrong impression by some of our tweets thinking we call every move correctly. Which is certainly not true as all of you can check in our frequently updated Trade Journal. The noise this all created, made me reconsider the way we tweet sometimes and I can assure you that I will take care these kind of misunderstandings won't happen again.



Instead of bombarding you with numerous screenshots, invalidating the false accusations, we have another idea: we will show you 5 days what we share in our Slack, so you can judge for yourself!
5 Days in a row we will show you what we post in our Slack for our members, the following content:
Daily updates on all major pairs (possible scenarios and trade set ups)
Daily updates on 30-40 alt coins (possible scenarios and trade set ups)
Trade set ups the team takes together with the members
Updates on these trades
We will share (for free) some of our latest Fundamental Reports for some promising projects.
A tour what we exactly offer in our Training Course
We will give away 3 free memberships. (1 month and/or 3 months incl. full training course)
The whole week we will give an extra discount on our membership fees.


First video (including an explanation how you can win one of the free memberships) will be posted Monday 04-11-2019. Announcement will be tweeted.


Stay tuned, coming week we will give you the chance to judge for yourself, together with loads of free content!
Crypto_Ed, 03-11-2019
---